Discussion of the Case of Venezuela
Fabrizio Perri
Federal Reserve Bank of Minneapolis and CEPR
Introduction
This very interesting chapter on Venezuela by Diego Restuccia is part of an ambitious and important project that can help us to understand the impact of monetary and fiscal policy on the macroeconomic fortunes (or misfortunes) of Latin America. Venezuela is an especially relevant country because of the extraordinary amount of variation in its economic performance over time. In these comments, I will do two things. First, I will provide some simple measures of the economic performance of Venezuela and compare them with the same measures for other Latin American countries, suggesting that indeed Venezuela stands out as the only country in Latin America that experienced, over the course of a century, both a growth miracle and a growth disaster. The second is to provide some cursory evidence on the connection between economic performance and policies. In the conclusion, I will briefly discuss why the early discovery of oil, rather than fiscal or monetary policy per se, might have had an important role in shaping the economic destiny of Venezuela.
The Macroeconomic Performance of Venezuela in Perspective
A Long-run View
Figure 1 plots long-run series (from 1900 to 2016) of GDP per capita for Venezuela, Argentina, Brazil, and an average of the seven major Latin American countries, all relative to US GDP per capita.1 The left panel of the figure uses data that are based on multiple purchasing power parity (PPP) benchmarks, which are supposed to capture well the level of GDP per capita. The right panel uses a more traditional constant price series (based on a single PPP benchmark) and thus is a better measure of the growth experience of these countries.2 The left panel shows how, in the beginning of the century, Venezuela's GDP per capita is significantly lower than that in Argentina and is also below the average GDP per capita in Latin America. By the 1970s, however, probably owing to oil discoveries and to an increase in the price of oil, income per capita in Venezuela is significantly higher than the Latin American average. At the end of the sample, however, Venezuelan income has returned to below the Latin American average. This peculiarity of Venezuela's experience is probably better appreciated by looking at the right panel of figure 1, which gives us a better picture of the growth patterns. First focus on the Latin American average GDP per capita, which is remarkably constant around 30 percent of US GDP per capita. This shows that, throughout the last 115 years, Latin America has grown at the same rate as that of the United States; that is, it has failed to catch up. Two types of experiences are behind this average lack of convergence. One is exemplified by the constant decline (relative to the United States) of GDP in Argentina, and the other by the very mild catch-up (relative to the United States) of GDP in Brazil. Figure 1 shows that Venezuela is different from both cases. Venezuela starts out poor, below the Latin American average, but experiences a growth miracle from 1930 to 1970, significantly outpacing US growth. From the 1970s on, however, Venezuela growth performance turns into a disaster that pushes the country below the Latin American average. So, although Venezuela in 2016 is essentially in the same position (relative to United States and to the rest of Latin America) as it was in 1900, a lot of action has taken place in the middle.
Next I will focus on the postwar experience, and explore whether Venezuela's poor performance after 1970 is associated with especially poor fiscal or monetary policies or both.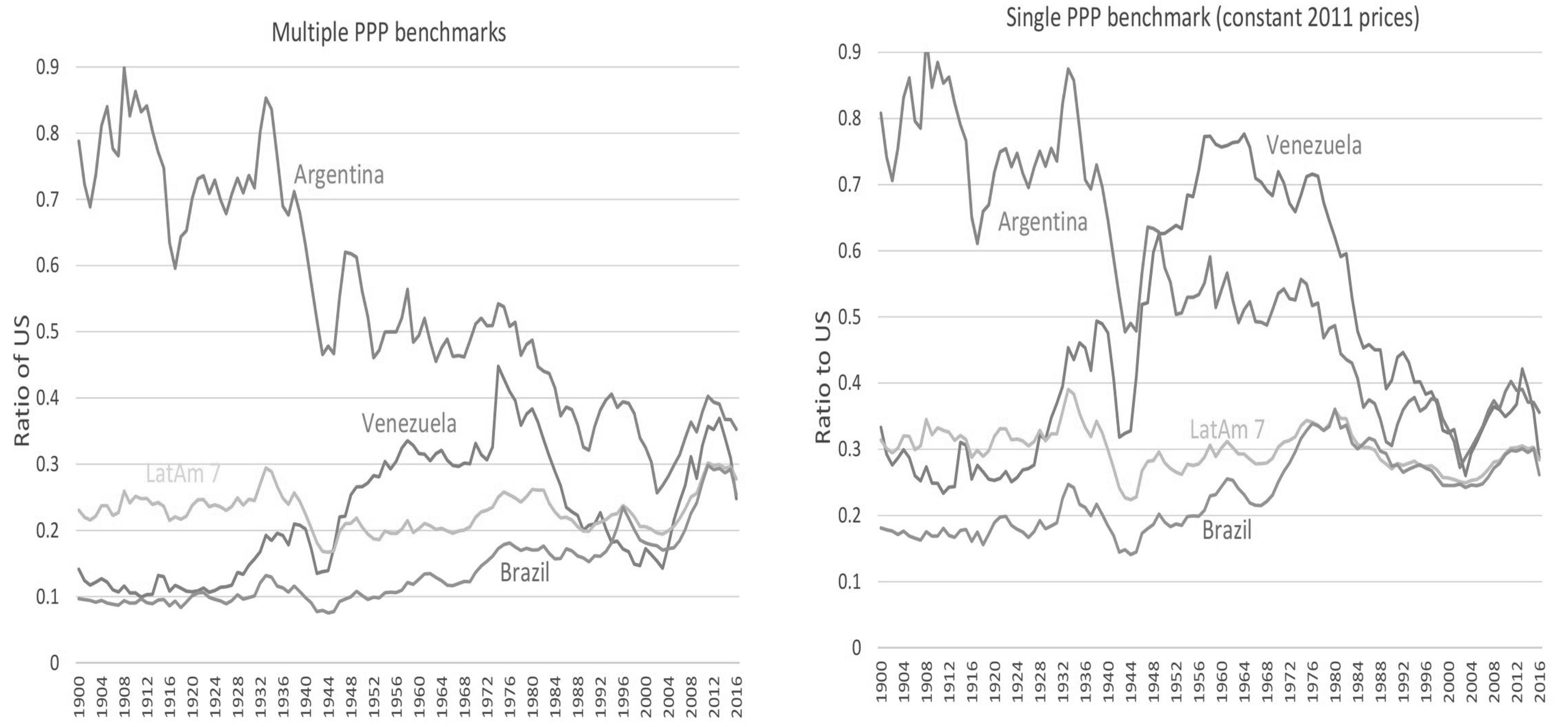 The Postwar Period
Figure 2 plots the volatility, over the period 1950–2016, of per capita annual GDP growth against the average growth, over the same period, for the twelve major Latin American countries and, for reference, the United States and Canada.3 The figure displays a few interesting features. All Latin American countries (with the exception of Colombia) feature a much higher GDP volatility than the United States and Canada. In terms of average growth, quite a few countries (such as Colombia, Mexico, and Paraguay) display no or minimal catch-up to the United States, some countries (notably Brazil and Chile) show a mild catch-up, and others (notably Argentina, Bolivia, and Venezuela) feature relative decline. Putting the two indicators together, we see that Venezuela clearly stands out in the northwest quadrant, displaying dismal average growth over the period (less than 1 percent per year), coupled with very high volatility.
Fiscal and Monetary Policies
Is Venezuela's poor macroeconomic performance associated with particular poor fiscal and monetary policies? We start by looking at a broad measure of fiscal policy, that is, the government primary surplus.4 Figure 3 plots the average fiscal surplus, together with its volatility for the same set of Latin American countries, and again with the United States and Canada as a reference.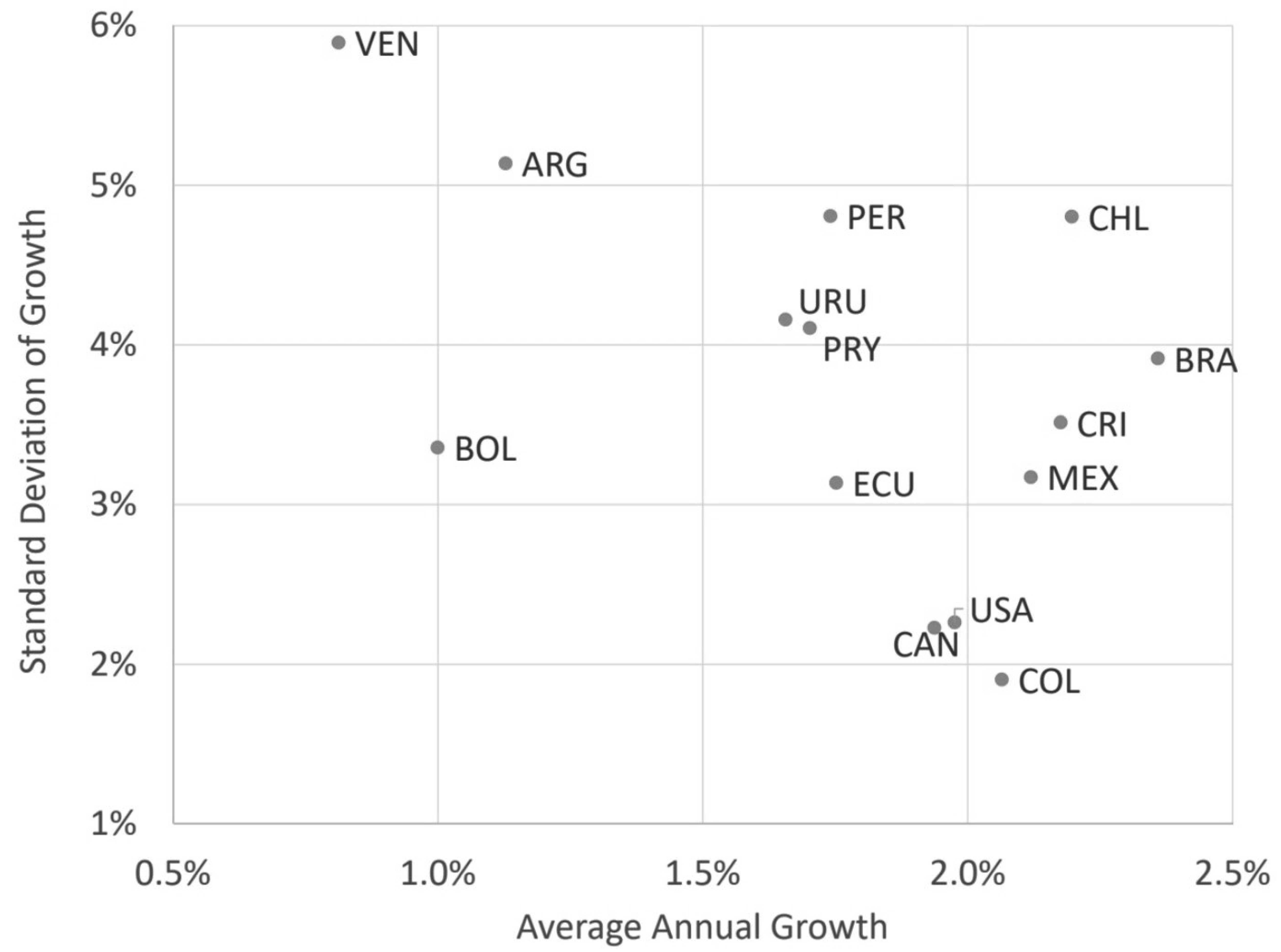 The figure shows that Venezuela stands out as displaying a rather high surplus volatility. As discussed in the Venezuela chapter, this feature is probably due to the volatility of oil revenues. In terms of average surplus, however, Venezuela does not stand out. Comparing figure 2 with figure 3 suggests that for Bolivia, the low average growth over the postwar period might be related to its fiscal profligacy, but for Venezuela, that does not seem to be the case. Moving now to monetary policy, figure 4 shows inflation in Venezuela from 1960 to 2016, compared to median inflation in the group of Latin American countries considered above.5 The figure reveals an interesting pattern, with Venezuela displaying a level of inflation considerably below the Latin American median until the 1980s and then switching to having higher inflation in the second part of the sample. Indeed, in the final years of the sample, Venezuela is the only Latin American country in hyperinflation territory. The figure suggests that monetary policy during the years of Venezuela's growth disaster might indeed have been an exacerbating factor.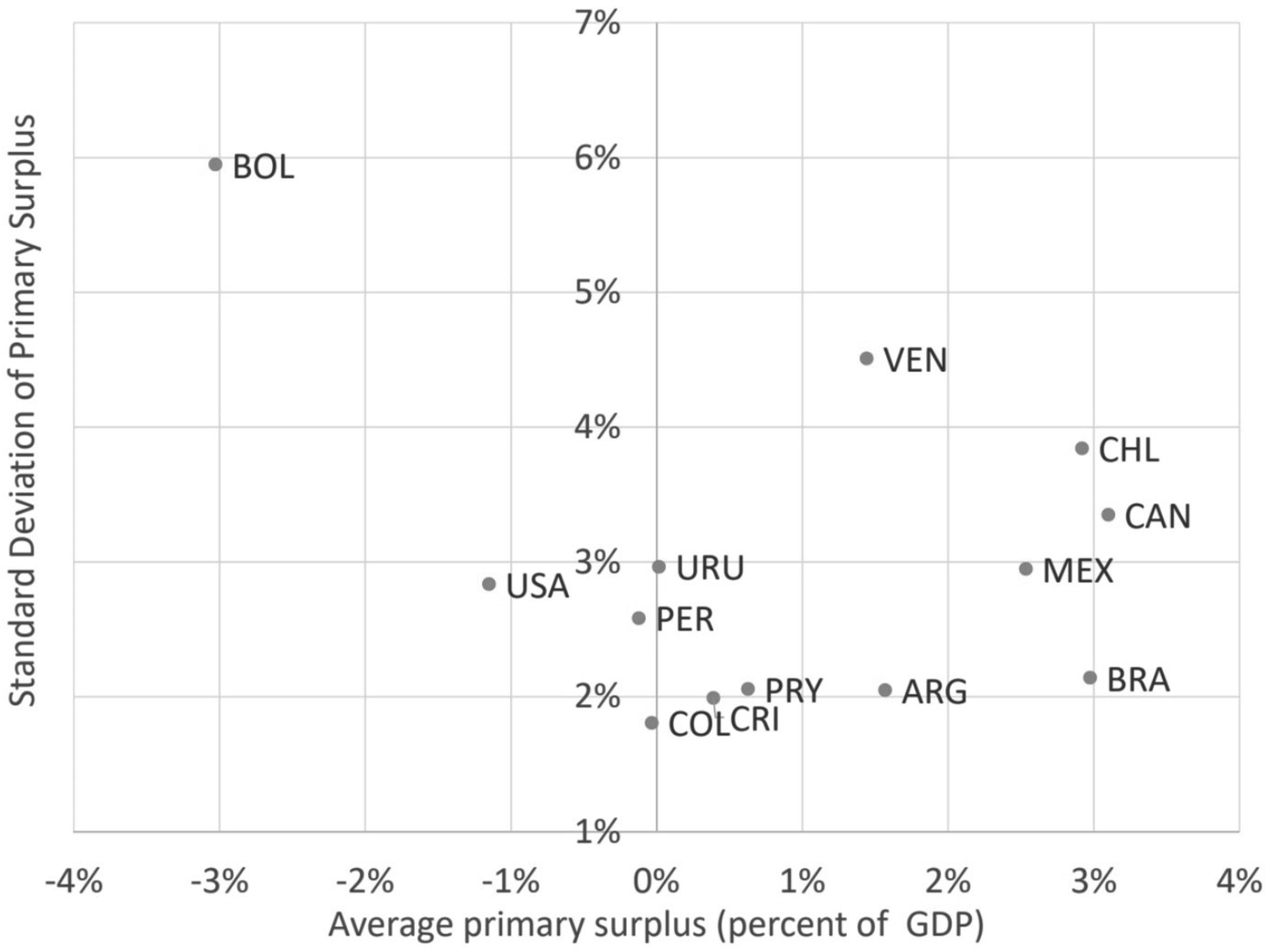 A Concluding Story
Venezuela's growth disaster after the 1970s is often cited as a textbook example of the so-called resources curse (see Sachs and Warner 2001). One caveat for this interpretation is that oil in Venezuela was discovered and developed early (in the 1920s), and, from 1930 to the 1970s, abundant oil resources have been associated with the Venezuela's fast growth (see figure 1). Venezuela thus serves as an example of both a resources blessing and a resources curse. Indeed, as noted in Torvik (2009),"For every Nigeria or Venezuela there is a Norway or a Botswana." This is why the resources curse literature is now moving beyond explaining whether resources are good or bad for an economy, toward examining under what conditions resources help growth and under what conditions they hinder it. The evolution of monetary policy described in figure 4 suggests that resources in Venezuela might have played a different role over time. Early on, oil wealth might have reduced the need for poor policies in a developing economy—as reflected by an inflation well below the Latin American median—and enabled faster growth than other Latin American countries at similar stage of development. Over time (and possibly because of oil shocks; see, for example, Tornell and Lane 1999) the volatile oil wealth might have increased power struggles instead of investment in institutions, which resulted in poorer policies, possibly less democratic institutions (see Caselli and Tesei 2016), and exceptionally poor growth in the second part of the sample.
Notes
The views expressed herein are those of the author and not necessarily those of the Federal Reserve Bank of Minneapolis or the Federal Reserve System.
References
Bolt, Jutta, Robert Inklaar, Harmen de Jong, and Jan van Zanden. 2018. "Rebasing 'Maddison': New Income Comparisons and the Shape of Long-Run Economic Development." GGDC Research Memorandum GD-174, Groningen Growth and Development Centre, University of Groningen.
Caselli, Francesco, and Andrea Tesei. 2016. "Resource Windfalls, Political Regimes, and Political Stability." Review of Economics and Statistics 98(3): 573–590.
Mauro, Paolo, Rafael Romeu, Ariel Binder, and Asad Zaman. 2015. "A Modern History of Fiscal Prudence and Profligacy." Journal of Monetary Economics 76(c): 55–70.
Pinkovskiy, Maxim, and Xavier Sala-i-Martin. 2016. "Newer Need Not be Better: Evaluating the Penn World Tables and the World Development Indicators Using Nighttime Lights." Working Paper 22216, National Bureau of Economic Research.
Sachs, Jeffrey D., and Andrew M. Warner. 2001. "The Curse of Natural Resources." European Economic Review 45(4–6): 827–838.
Tornell, Aaron, and Philip R. Lane. 1999. "The Voracity Effect." American Economic Review 89(1): 22–46.
Torvik, Ragnar. 2009. "Why Do Some Resource-Abundant Countries Succeed while Others Do Not?" Oxford Review of Economic Policy 25(2): 241–256.