Discussion of the Case of Peru
Saki Bigio
"The Monetary and Fiscal History of Peru" by César Martinelli and Marco Vega is the among the best narratives of one of the most painful lessons from economic policy experimentation. I was born and raised in the country and during the time when those policy experiments were being carried out. Perhaps that is the reason why I am a macroeconomist. Today, it has been almost twenty years since I took my first macroeconomics course, and I can still remember my favorite readings: Sargent (1986), on the history of hyperinflations in Eastern Europe, and Velarde and Rodríguez (1992a,b), on the Peruvian hyperinflation.1 What is good about this chapter, is that the story is illustrated with calculations that employ the government budget constraint. The beauty of a budget constraint is that it is transparent, but also agnostic about theory. But in the end, it is always the task of the author to interpret an insipid account. I have a few comments on the interpretations of Martinelli and Vega.
Martinelli and Vega interpret the accounting in a way that coincides with the most common narrative of the period. The synopsis is that a sequence of populist governments, which began with the coup of 1968, consistently ran primary deficits. The source of those deficits was subsidized prices by state-owned enterprises (SOEs). The authors label this period as phase 1. SOE deficits were mainly financed externally, but also set the stage for money financing. Phase 2 during Alan Garcia's government, the story goes, took those policies to an extreme and triggered a multiple crisis of default and stagflation. I think the history is more complex than that.
Figures 13 to 15 in the chapter show the evolution of fiscal deficits. My reading of the series differs slightly. In figure 1 I plot the economic results of SOEs. Panel (a) shows that the overall deficits coincide with two waves of capital formation by the public sector. What the money was invested in, I cannot tell. The waves of capital investment at the SEOs coincide with a similar pattern for the central government: a primary-surplus cycle (panel b) coincides with the capital formation. I interpret from these pictures that the two large waves of public investments reflect a national policy of large capital formation that led to dramatic deficits. The figure also shows that each wave led to substantial increases in interest payments, which reflects that the capital formation waves were primarily funded externally. I see these waves of capital formation in phase 1, as the original sin of what would eventually happen during phase 2. The point I want to emphasize is that the driver of fiscal deficits was not the poor performance of state enterprises, but rather a failed macroeconomic program of capital investment at the national level.
An analysis of the balance of payments is always complicated because of the multiple components. However, one thing you can also read, through an inspection of Peru's external account, is that the waves of large infrastructure investments coincided with current account deficits. This added pressure to the currency pegs. The resulting exchange- rate depreciations increased the real fiscal burden of external debt. By the beginning of phase 2, in the early eighties, Peru had de facto defaulted, as many countries had done explicitly at the time. Garcia would be the first to be explicit about the default, but the country was already in financial autarky for any practical purpose. I make this argument because Peruvian bond holdings had shifted from private hands to international organizations (figure 2). Importantly, all throughout the eighties, Peru increased its overall debt stock because it was rolling over debt at high interests, not because it was obtaining more funding. By the middle of phase 2, the main source of deficit financing was left to seigniorage.
One thing I find missing from the computations of seigniorage revenues in the chapters in this volume is the role of publicly held banks. In fact, in figure 2, panel (b), we see a large increase in credit by the central bank to state-owned banks. This expansion corresponds to an increase in the monetary base, but the effect on M1, coming from cheap credit and deposit creation by government-owned commercial banks, could have been much more important. The national monetary statistics fail to capture a hidden component of the consolidated government's deficit: if government-owned banks issue deposits to grant low-quality loans this operation will not be picked up by the national accounts because non performing loans take time to appear in income statements.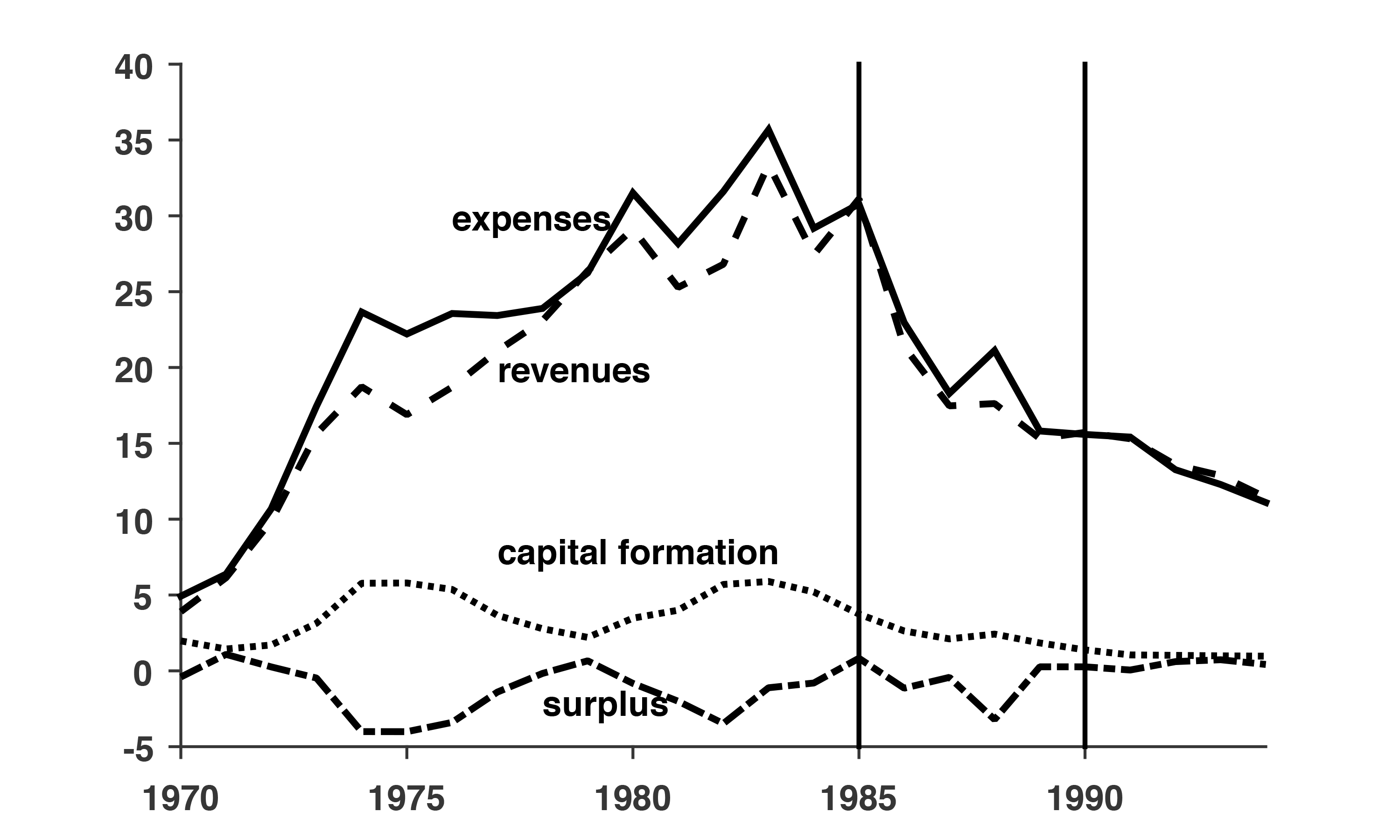 Garcia's government had a chance to reverse courses, but if failed and triggered the hyperinflation of phase 2. Garcia was misguided by theories that would be proven wrong. In the book by Carbonetto et al. (1987), which was very influential in Garcia's regime, you can even find an IS-LM diagram where the IS curve has a downward-sloping portion! This is a reflection of the beliefs of that time: that a monetary-stimulus could increase output without inflation. In other words, the main trigger of the hyperinflation during phase 2 was an attempt to boost aggregate demand with a monetary expansion, in the context of an international recession.
The final point I want to make is that the government's budget constraint is silent about whether it is easy or not to cut the deficit. The standard monetary-fiscal theories assume that it is, but I think that the Peruvian case study reveals that it isn't. I believe that Garcia's government learned its lesson quickly. If you inspect the path of revenues and expenditures, you see a clear picture: in the period between 1987 through 1989, the government was trying hard to cut its deficits by reducing expenditures. That is my interpretation of figure 1, panel (a) where you see a strong reduction in the size of government expenditures during phase 2. This was not a situation in which expenses were increasing, there was a reduction in both government income and expenses together. Further evidence is found in figure 3, panel (b) which shows a dramatic shift in the composition of the sources of government income. Here we find a shift away from income taxes, towards excise taxes that are easier to collect in a hyperinflationary environment. The government's budget constraint is silent about how inflation erodes tax collections or how an austerity plan can backfire as a reduction in revenues. It is easy to blame one government, but the blame should be placed on a sequence governments and the institutions that let them fail.
Today, Peru is back on track. For the most part, it has learned its lesson the hard way and has achieved macroeconomic stability through institutional change. The challenge now is to increase microeconomic efficiency and taper corruption in a country where every living president since I was born is either being prosecuted or has been convicted for corruption. Let's hope it doesn't take another hard lesson to further improve Peru's institutions.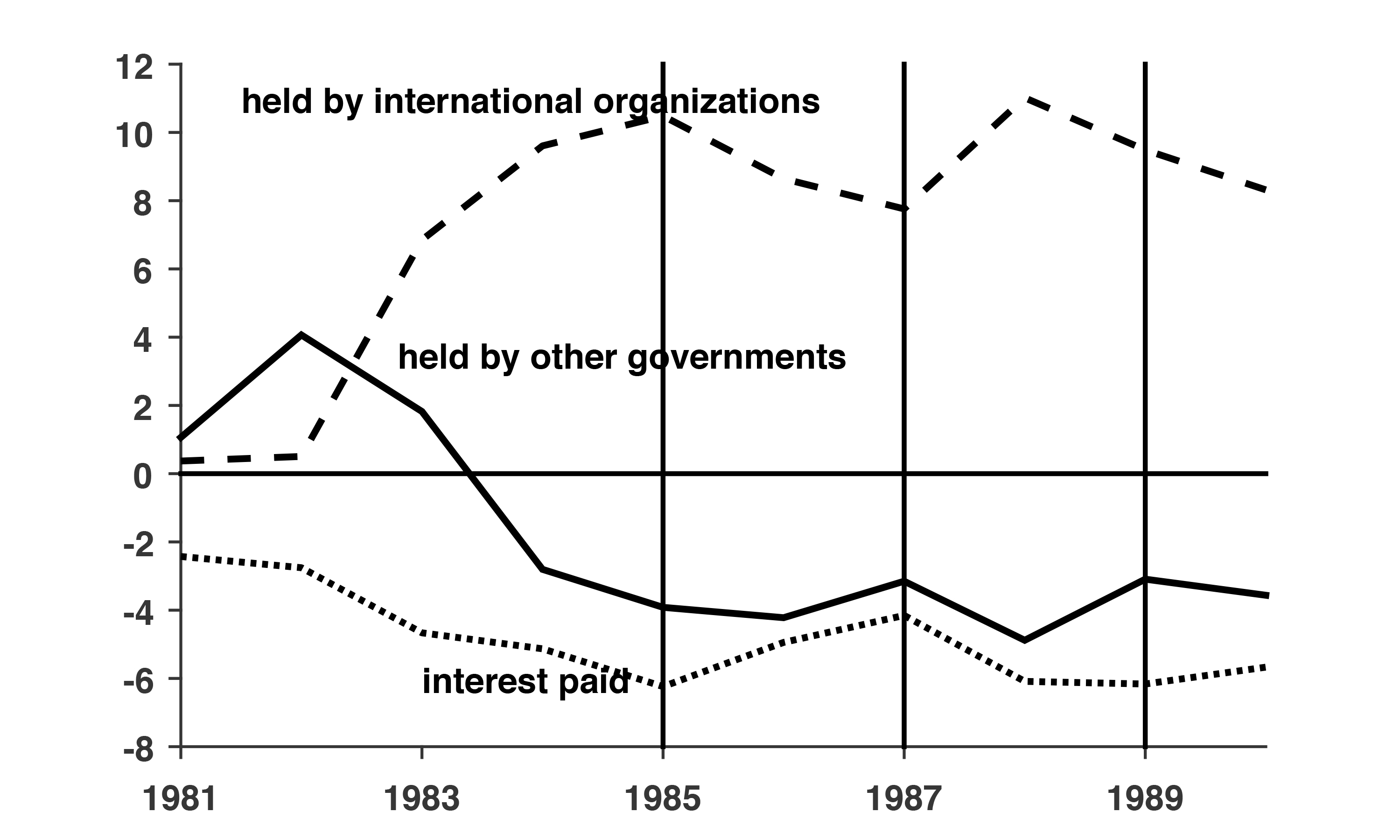 Notes
1. I had the good fortune to later on have Velarde and Sargent as undergraduate and graduate thesis advisers.
References
Carbonetto, Daniel, M. Inés C. de Ceballos, Oscar Dancourt, César Ferrari, Daniel Martínez, Jaime Mezzera, Gustavo Saberbein, Javier Tantaleán, and Pierre Vigier. 1987. El Perú heterodoxo: Un modelo económico. Lima, Peru: Instituto Nacional de Planificación.
Sargent, Thomas J. 1986. "The Ends of Four Big Inflations." In Rational Expectations and Inflation. New York: Harper & Row.
Velarde, Julio, and Martha Rodríguez. 1992a. "De la desinflación a la hiperestanflación, Perú: 1985–1990." Documento de Trabajo No. 5, Universidad del Pacífico.
Velarde, Julio, and Martha Rodríguez. 1992b. "El programa económico de agosto de 1990: evaluación del primer año." Documento de Trabajo No. 2, Universidad del Pacífico.