Discussion of the Case of Uruguay
Carlos Végh
Chief Economist for Latin America and the Caribbean at the World Bank and Fred H. Sanderson Professor of International Economics at Johns Hopkins University
It has been a pleasure to read this chapter on the monetary and fiscal history of Uruguay over the last sixty years. It is highly informative and clearly written, and does an excellent job in linking fiscal deficits to monetary instability, a trait that has clearly dominated the fiscal-monetary landscape of Uruguay in the last sixty years.
The Missing Link in the Fiscal Story
Rather than marginally adding to this well-known link, let me address the issue of how fiscal policy has been conducted over the business cycle in Uruguay. For some reason, the chapter completely abstracts from this phenomenon, which, in my view, is as critical to understanding fiscal policy in Uruguay as is the link between fiscal deficits and monetary instability. Specifically, the issue is whether fiscal policy has been procyclical, acyclical, or countercyclical. By definition, procyclical fiscal policy (i.e., expansionary fiscal policy in good times and contractionary fiscal policy in bad times) reinforces the business cycle. If anything, standard Keynesian prescriptions would call for exactly the opposite policies (i.e., countercyclical fiscal policy to stimulate the economy in bad times and cool it down in good times), and neoclassical fiscal policy prescriptions (à la Lucas and Stokey 1983) would, under separable preferences, imply acyclical fiscal policy.
Since a picture is worth a thousand words, let me illustrate this critical issue with figure 1.
Each bar represents one of 123 countries: 22 industrial (black bars), 77 emerging markets (yellow bars), and 24 non-emerging Latin American and Caribbean (LAC) countries (red bars). The bars (which vary between −1 and 1) indicate the correlation between the cyclical components of real GDP and government spending. As indicated in the figure, a positive correlation implies procyclical public spending since public spending increases (falls) in good (bad) times.1 The opposite is true in the case of countercyclical policy. The sample period covers 1960–2017. Several key observations follow from this plot:
73 percent of industrial countries have been countercyclical, with an average correlation of −0.08 (and significant at the 5 percent level).

77 percent of non-LAC emerging markets have been procyclical, with an average correlation of 0.24 (and significant at the 1 percent level).

All but one LAC countries have been procyclical, with an average correlation of 0.28 (significant at the 1 percent level). The red arrow indicates Uruguay, which has been procyclical throughout this period.

2
Breaking the Sample: Before and After 1999
Figure 2 breaks the sample into two (before and after 1999) for LAC countries.3 Interestingly enough, as a whole, LAC has become less procyclical: the number of countercyclical countries has increased from 8 percent during 1960–1999 to 33 percent after the year 2000. The other side of the coin is that the average correlation has fallen from 0.29 to 0.14. A big exception to this otherwise good news is Uruguay, which has become more procyclical both in absolute terms (with the correlation increasing from 0.26 to 0.58) and in relative terms (from twelfth most procyclical country in LAC to fourth most procyclical). At the other extreme, Chile is the best-behaved country in LAC. As illustrated in figure 2, in the post-2000 period, Chile has become the most countercyclical country in LAC (with a correlation of −0.68).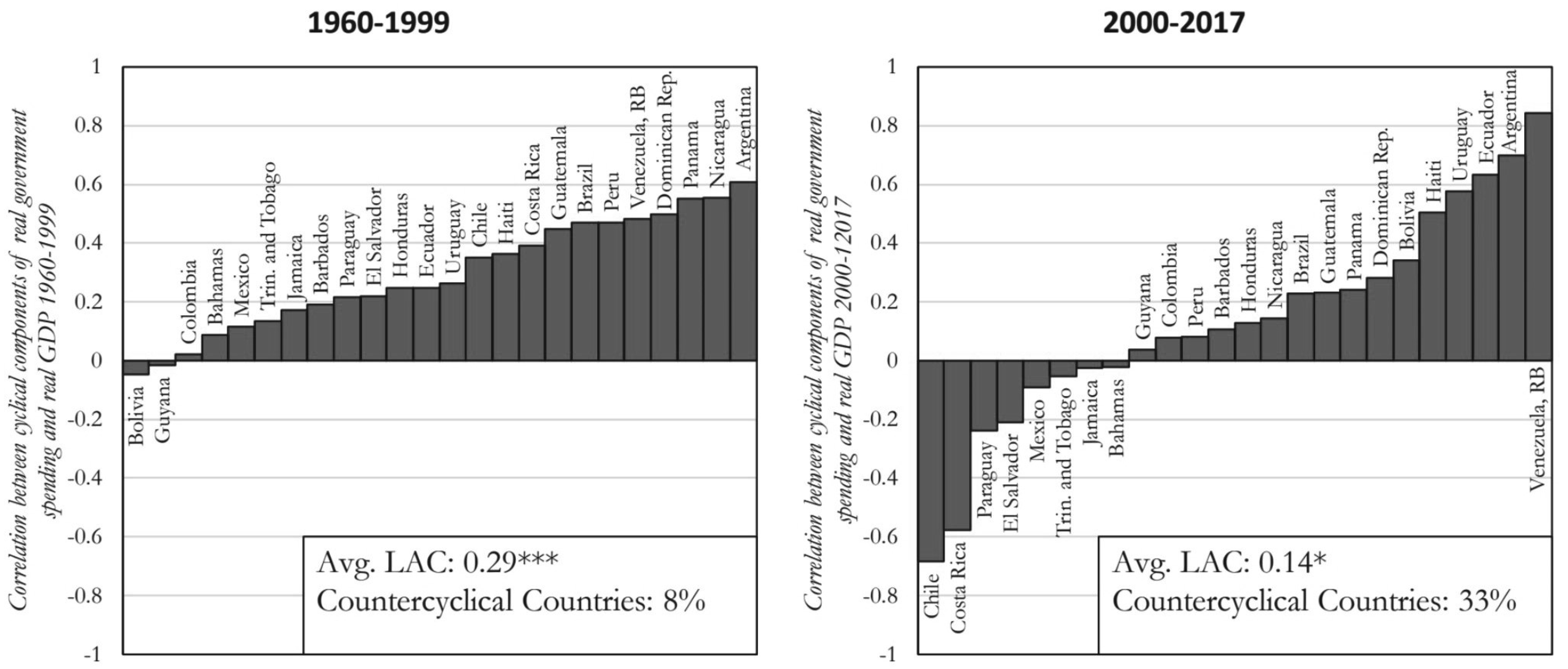 What may lie behind different degrees of cyclicality? Figure 3 points to institutional quality (which includes the quality of fiscal institutions) as a key determinant, by comparing Chile and Uruguay. The plot shows a twenty-year rolling window for an index of institutional quality and the correlation between the cyclical components of government spending and real GDP. In the case of Chile, the large improvement in the quality of institutions and the beneficial effects of the structural balance budget rule introduced in the year 2000 are readily apparent, as fiscal policy has become clearly countercyclical over the last two decades. In sharp contrast, Uruguay has become more and more procyclical over time, reaching a correlation of 0.77 in 2017.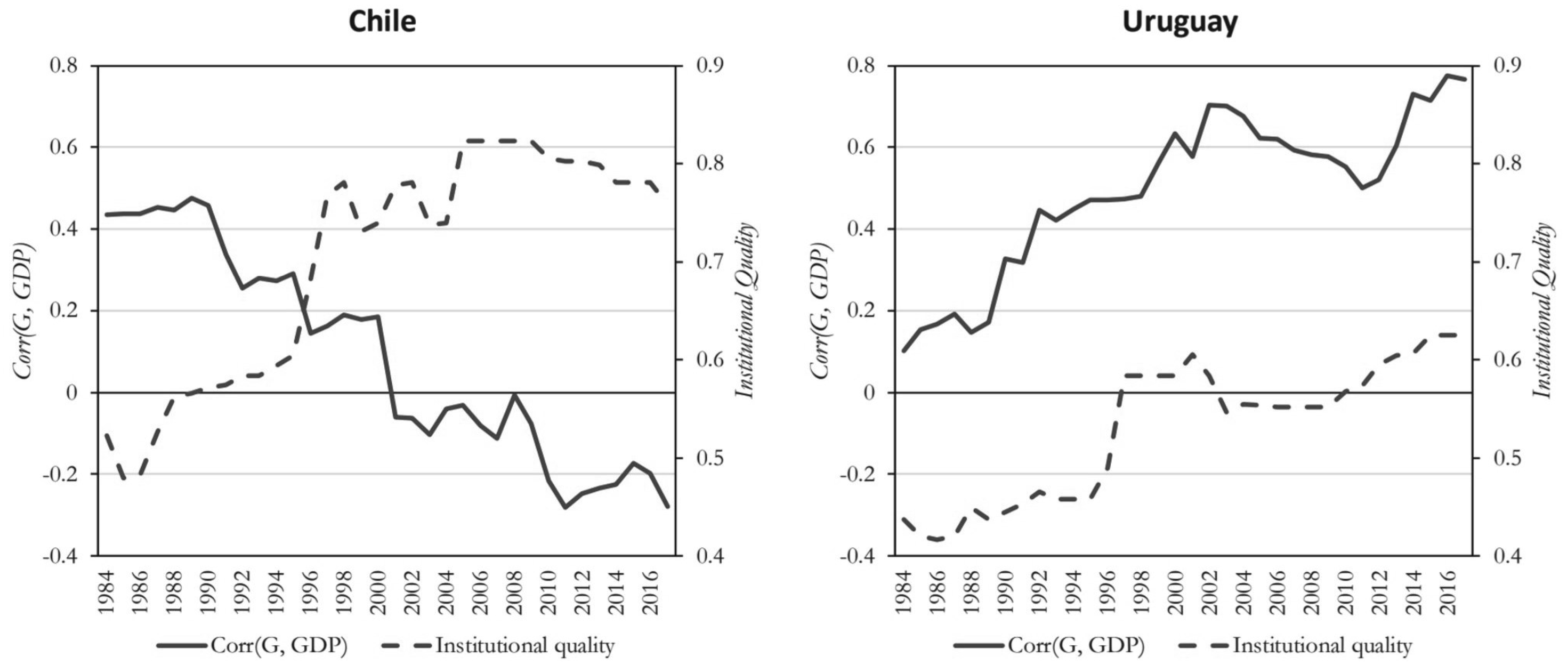 One Hundred Years of Fiscal Policy Cyclicality
Finally, we take a really long-run view and compute fiscal cyclicality based on one hundred years of data for both Chile and Uruguay (figures 4 and 5).4 The plot illustrates ten-year rolling windows of the correlation between the cyclical components of government spending and GDP. Further, we use the PELT algorithm (pruned exact linear time) to look for multiple change points in the fiscal cyclicality regime. In the case of Chile, we observe that the algorithm detects four different regimes, which become progressively more countercyclical over time, ending with an extremely countercyclical policy (partly reflecting the sharply countercyclical reaction to the global financial crisis of 2008–2009). The case of Uruguay is the opposite. After alternating regimes, Uruguay has been consistently procyclical for almost four decades. The contrast with Chile could not be starker.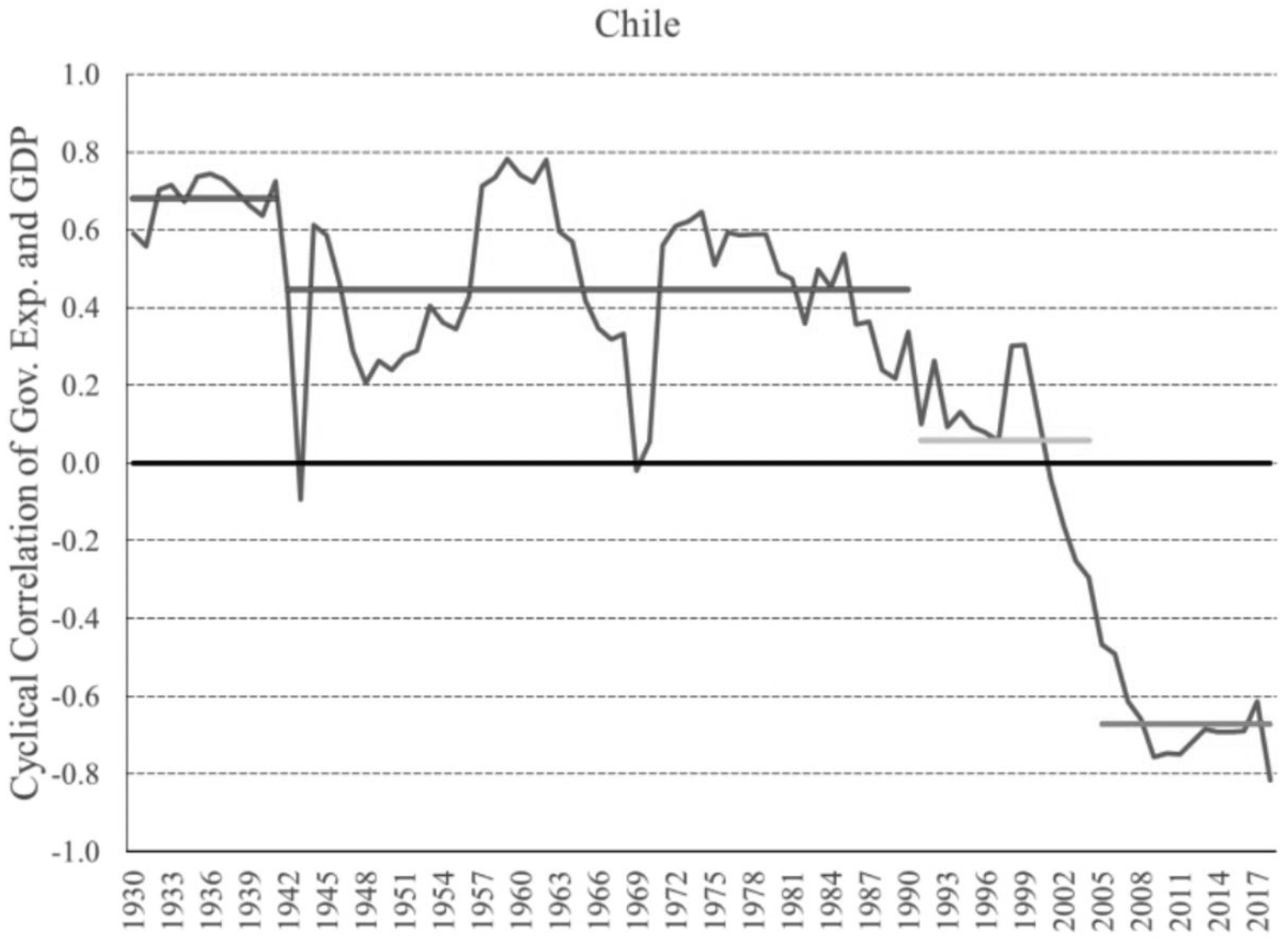 Why?
Why would a country follow procyclical fiscal policy? This is the key public policy question. More and more, countries in LAC are escaping the fiscal procyclicality trap thanks to better fiscal institutions, including fiscal rules and fiscal councils (such as those in Chile, Peru, and Colombia). But most continue to reinforce the business cycle in a suboptimal way. The two most plausible explanations found in the literature are (1) frictions in (or incomplete) capital markets and (2) political-economy pressures to spend in good times. In my view, these are complementary explanations, since the first one is more likely to apply in bad times, while the second would come to the fore primarily in good times. The urge to spend in good times is legendary in emerging markets, whether to solidify power or buy constituencies' favors (including future votes), or as the result of viewing temporary shocks as permanent. In bad times, international creditors (with the possible exception of official multilateral organizations) are typically reluctant to lend, given the long history of defaults in emerging markets.
Uruguay has not been able to escape these forces and, hence, the procyclical trap. The fiscal authorities either seem unaware of the simple idea of saving in sunny days for rainy days or, much more likely, conveniently choose to ignore such an elementary dictum to reap the political benefits of spending temporary windfalls. In fact, this misguided fiscal behavior has taken place irrespective of the political party in power, which suggests that the roots go deeper. But, eventually, common sense and good economics will hopefully prevail, and Uruguay will follow the sensible cyclical path of industrial countries and an increasing number of LAC countries.
References
Camarena, José A., Jeffrey Frankel, Carlos Végh, and Guillermo Vuletin. In progress. "Procyclical DNA." World Bank.
Frankel, Jeffrey, Carlos Végh, and Guillermo Vuletin. 2013. "On Graduation from Fiscal Procyclicality." Journal of Development Economics 100 (1): 32–47.
Ilzetzki, Ethan, and Carlos A. Végh. 2008. "Procyclical Fiscal Policy in Developing Countries: Truth or Fiction?" Working Paper 14191, National Bureau of Economic Research.
Kaminsky, Graciela L., Carmen M. Reinhart, and Carlos A. Végh. 2005. "When It Rains, It Pours: Procyclical Capital Flows and Macroeconomic Policies." In NBER Macroeconomics Annual 2004, vol. 19, edited by Mark Gertler and Kenneth Rogoff, 11–82. Cambridge, MA: MIT Press.
Lucas, Robert E., Jr., and Nancy L. Stokey. 1983. "Optimal Fiscal and Monetary Policy in an Economy without Capital." Journal of Monetary Economics 12 (1): 55–93.
Végh, Carlos, Daniel Lederman, and Federico Bennett. 2017. Leaning against the Wind: Fiscal Policy in Latin America and the Caribbean in a Historical Perspective. LAC Semiannual Report. Washington, DC: World Bank.
Végh, Carlos A., and Guillermo Vuletin. 2015. "How Is Tax Policy Conducted over the Business Cycle?" American Economic Journal: Economic Policy 7 (3): 327–370.